Weekend Items: USPS Delays, Circumcised vs Uncircumcised, Comment Corner, Twitch & More
Some stories aren't big enough to warrant their own post. We gathered some of them for your enjoyment. In this article, we take a look at what kept Evelyn Claire busy, an update on pending shipments, a new "Comment Corner", and some meta updates.
Evelyn's Art Prints
53 days ago, during the first week of the year, Evelyn Claire launched a new merch item – "Welcome to the Basement", a limited edition print with artwork by JasonV Roberts. The high quality 11x14" matte print is hand numbered out of 100 pieces. The print is offered in two different prices: $25 for a standard hand numbered print, and a "super limited edition signed by Evelyn Claire herself", limited to only 10 pieces, for $75.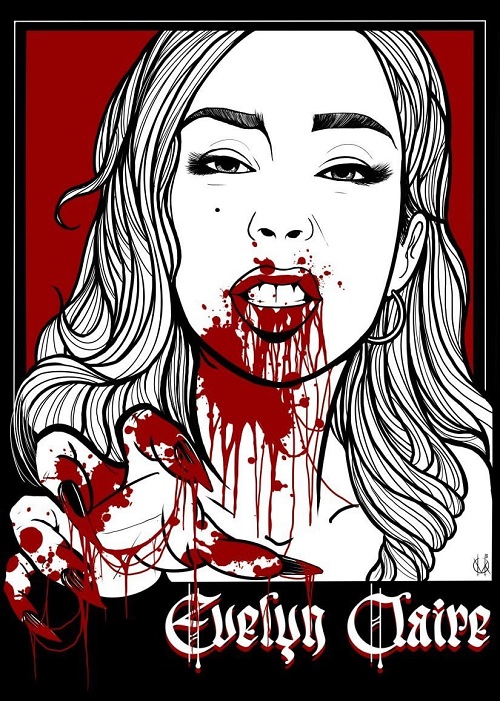 As of February 26, 2021, both items are still in stock – indicating less than 10 people have ordered the $75 edition. Some followers did make an order, though, waiting almost 2 months now with no shipment in sight. Evelyn occasionally provided updates on the matter, from issues with the company she works with (for free, she does promotions for them) to other technical delays. The most recent update finally gave hope to customers – Evelyn said a shipment from USPS is currently in South Carolina, en-route to Los Angeles, where she's expected to sign the prints and then finally ship them out.
Circumcised vs. Uncircumcised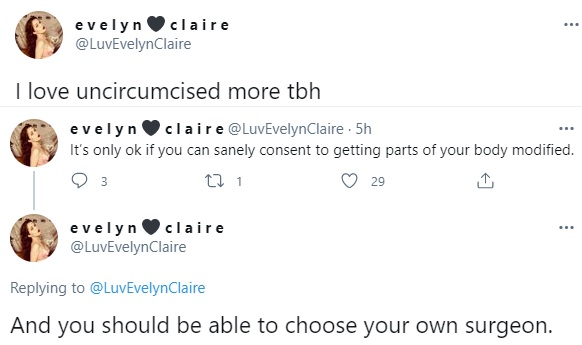 Shortly after providing the update, Evelyn shared a few thoughts on social media. "I love uncircumcised more, to be honest. It's only ok if you can sanely consent to getting parts of your body modified. And you should be able to choose your own surgeon", she said, also wondering: "Why don't they want women to like sex? Why is enjoying sex bad?". We're not sure who "they" are, but we assume she's referring to a stigma associated with some of the western world's general population.
Evelyn's thoughts sparked some debate, with an equal number of people who share the opinion vs. those who disagree. Some, presumably uncircumcised, agreed, citing morals and the inability of a child to consent, while others, presumably circumcised, said "sorry you feel that way". Some also brought up the issue of medical advantages associated with the procedure.

Comment Corner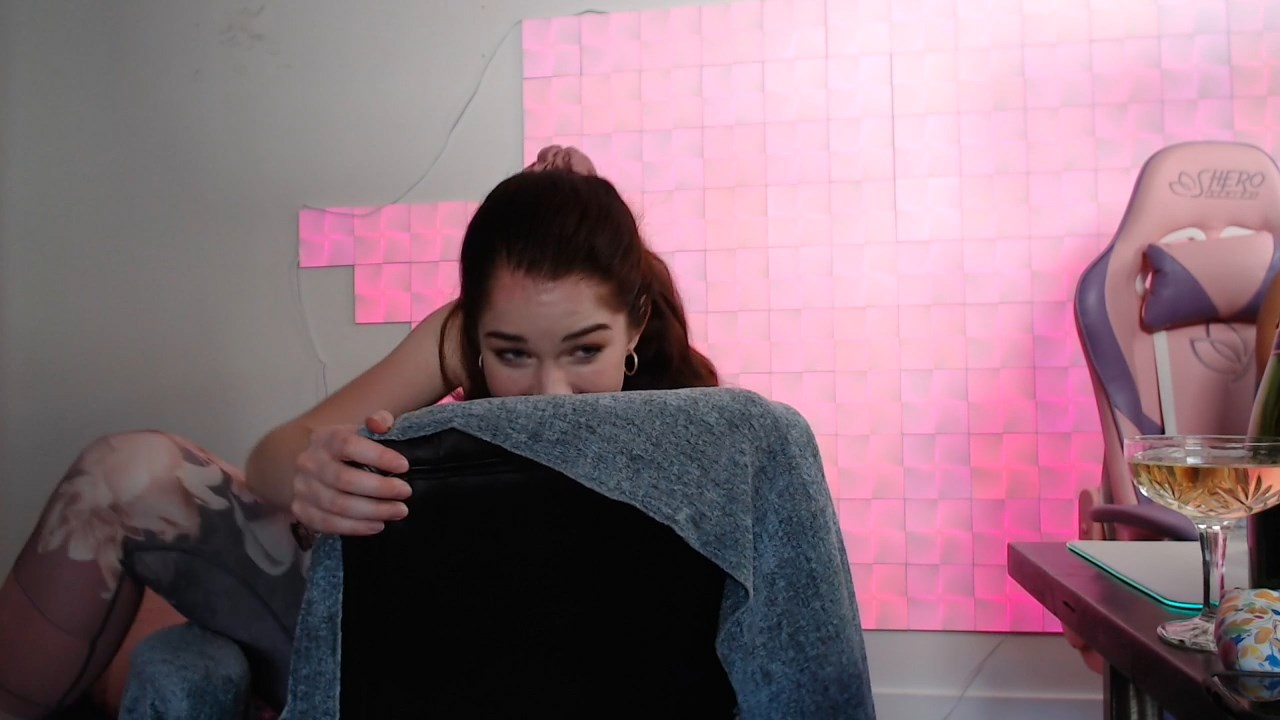 What does the Internet think about Evelyn Claire? We looked up some comments on videos or other posts from 2021. Warning: some of the negative comments are explicit.
On a video recapping the Twitch drama revolving Destiny, we unsurprisingly found the negative comments:
Imagine paying for plastic surgeries, and take cock on camera for a living, and still insult people on something so shallow.
If you listen to a roasties opinion for a single second you are wasting your life.
the way she's hugging her chair and giggling makes me think she was molested at a young age or something
The positive was found on comments for the existing two episodes of Evelyn's Podcast, Smutcast, formerly known as Porncast Podcast. Evelyn can moderate those, but there was still plenty of love:
Im glad you are kicking bottom. supporting you is awesome. continue showing the twitch and YouTube community that you always blossom. being able to chill with you is a wonderful outcome
Cant wait til the next one always interesting and insightful love it :)
Hair makeup and outfit was excellent 💕. This episode was terrific. It was great to get a perspective from AVN.
A joke was also to be found:
This is a MAJOR Question for you and the rest of the Adult Industry: Do you think Betty White should host the AVN Awards?
Internet forums can be rough. Evelyn previously said comments on Reddit made her cry. We can definitely see what she's talking about. On a general Evelyn thread, some replied:
I remember this bitch specifically was the first to bitch about masks and how stupid people were, the go on multiple road trips to multiple festivals and both mock the states and cities she went to for not wearing masks, but then go to the fests and stream her many vacations/times shes getting high and drunk where she isnt wearing masks.

If you told me she had a percocet&xanax habit I would not be surprised. Also I got banned from twitch for calling her a dumb slut in her chat while I was drunk.

Also she paints, Ive seen one of her paintings and she signs it E. Claire. I genuinely thought she chose the name because she thought it was a quirky white girl "cute thing" to do to name her internet persona Eclaire. For full disclosure Id be lying if I told you I didnt agree with that sentiment. If you look at her she absolutely fits the bill for "quirky white internet egirl".
Definitely a bit retarded & has a shitty voice, still hot tho.
A positive did appear as well, though:
I remember her from the Mary Poppins one. That was good shit.
Twitch
Evelyn streamed a few times on Twitch this week - a first-time Minecraft gameplay with Adriana Chechik (later deleted); a 9-hour frustrating Stellaris session and a 3-hour Animal Crossing stream after taking a hiatus from the game. The most recently-planned stream was cancelled due to accidental watching of throwback MTV videos, Evelyn said.

Meta update
Since launch, we've shaped the concept of the site as we went along. Initially not planned as a platform to provide continuously updated posts, the demand encouraged us. We've received positive feedback as well as negative (and unsuccessful) attacks and adjusted our infrastructure accordingly. We also appreciate the "hidden followers" who contacted us saying they manually follow without publicly doing so, much like Evelyn herself, because they're not sure how she'd respond if they'd follow both her and the Encyclopedia, and they don't want to risk her blocking them. We see you, we understand, and we don't take it personally. We also literally see it: the statistical numbers of impressions, engagements and clicks show a definite base of followers.
Speaking of stats, we might do a future post sharing some. We're still experiencing daily organic growth. We went from a minimum of 1 unique hourly visit, to 10, to 100 and so on as we kept growing and posting fresh content. It's also interesting to see the keywords people look for - some of them unexpected. We're waiting for more time to pass to gather larger statistics and we'll keep you posted.