Ten Dollars And A Condo: Kathleen - Standrew - Kellie - Et Al.
19 years. That's the time passed between the moment Evelyn Claire was greeted into the world as Kellie Paulsen at Providence Sacred Heart Medical Center & Children's Hospital in Spokane, Washington, and until the day she signed a statutory warranty deed, closing a deal for a condominium located just 2.6 miles away from that hospital.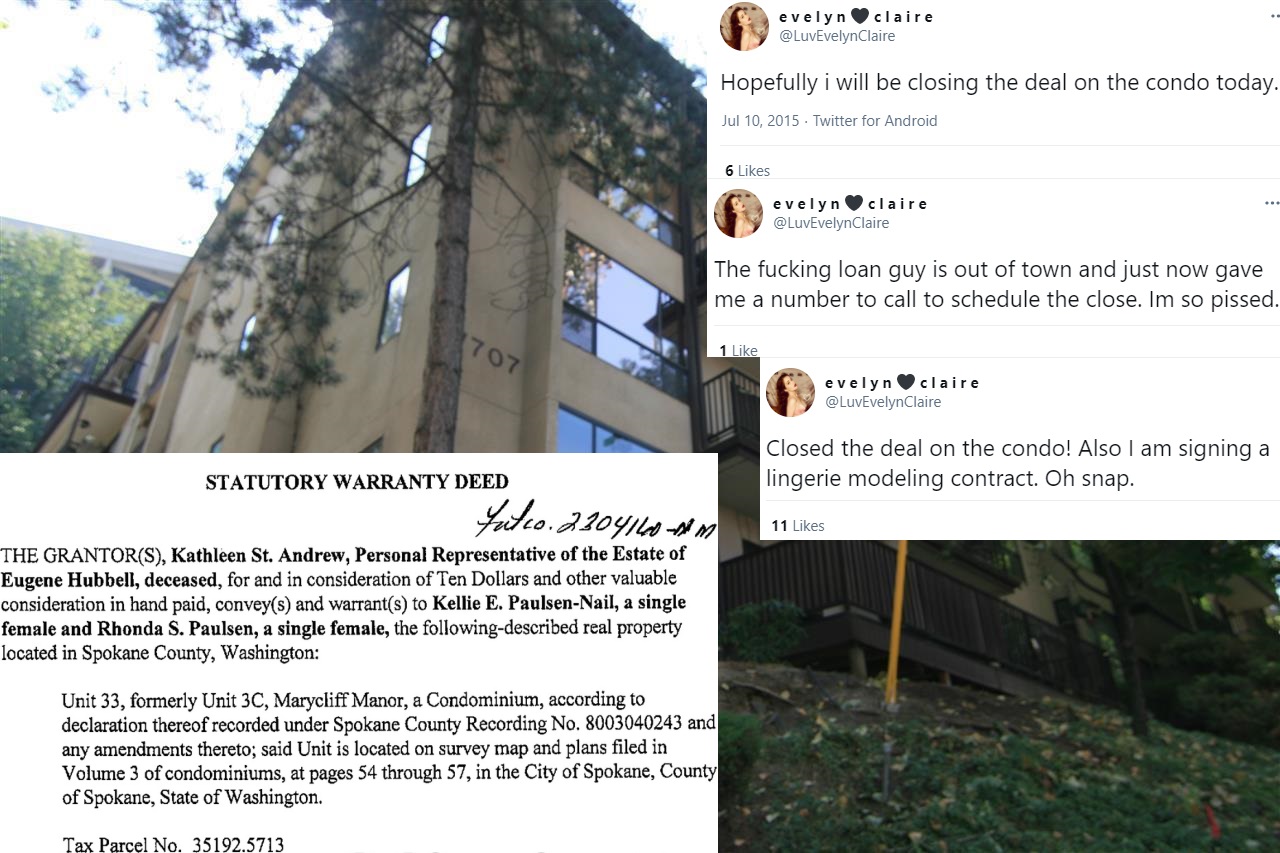 The deal, with insurance company First American Financial and Gustafson Law, Inc., P.S., was signed July 10, 2015, between Kathleen St. Andrew and Kellie E. Paulsen-Nail. Andrew, as representative of the Estate of Eugene Hubbell (deceased), transferred ownership of Unit 33 "in consideration of Ten Dollars and other valuable consideration in hand paid, convey(s) and warrant(s)", to "Kellie E. Paulsen-Nail, a single female, and Rhonda S. Paulsen, a single female".
The document, filed with a $73 fee at the Recorded Land Records of Spokane County Auditor, is a public record, freely and legally available for any research, as part of transparency laws of the State. An exhibit is attached to the document, renewing a grant for The Washington Water Power Company to erect, construct and maintain an electrical distribution line and appurtenances.
Hours before executing the deal, Evelyn shared: "Hopefully I will be closing the deal on the condo today". It wasn't a smooth sailing, though, as she later updated: "The fu–ing loan guy is out of town and just now gave me a number to call to schedule the close. I'm so pissed".
Those setbacks were quickly resolved though, as Evelyn finally updated: "Closed the deal on the condo! Also I am signing a lingerie modeling contract. Oh snap".