Actual Impostor Stream-Snipes Twitch Broadcast Of "Among Us" (VIDEO)
On Friday, a group of Twitch streamers gathered to play video game "Among Us", with most of them broadcasting their session on their respective channels from their own point of view. They were all surprised when they realized one of them isn't actually playing - it was an impostor who invaded the server session under the name of one of the streamers.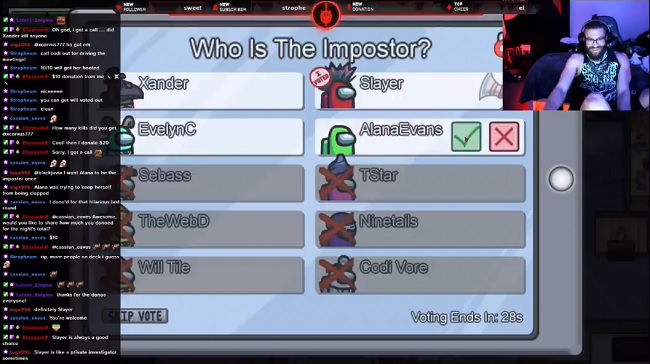 On "Among Us", players take the role of Crewmates while others are "Impostors". The Crewmates must identify the Impostors and eliminate them, while the Impostors attempt to covertly sabotage and kill the Crewmates before they manage to finish their tasks. In this case, it turned out an actual off-story Impostor may appear as well.
On this particular Twitch stream, the following nicknames were playing in a server:
Xander (Xander Corvus)
Slayer (Matt Slayer)
Ninetails (Melanie J Scarlett)
TStar (Tiffany Starr)
EvelynC (Evelyn Claire)
Codi Vore
Will Tile
Sebass
TheWebD
AlanaEvans
At some point during the game, the last on that list, Alana Evans, was asked why she had voted for Evelyn in that round despite it making no-sense in terms of the preceding game events. She answered that she's not even playing the game yet - and is not in the server. The group realized at this point that a random person joined under Alana's name, playing with them instead.
The player was quickly kicked from the server upon discovery. Evelyn Claire theorized that the impostor "might be from my chat", as the player reportedly got a glimpse of the server information that was accidentally shared on-screen during setup instead of being hidden until the game was fully loaded. Evelyn was also visibly freaked out when one of the players said the impostor wrote "Kill Evelyn" before being discovered.
Twitter user elizabethsquill shared a video of the incident: