Evelyn Claire Podcast: Episode 2 Recap (Smutcast)
Evelyn Claire's Podcast delivered another installment this week, with returning guests Adriana Chechik ("I begged her to come back!"), Cathy Reisenwitz and Xander Corvus. New faces included Peter Warren and Olive Glass.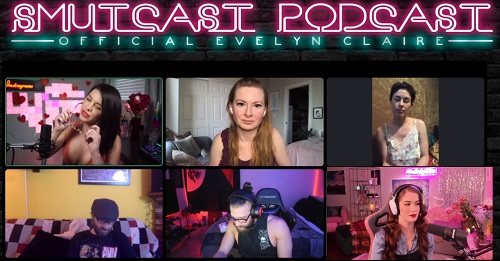 With audio issues fixed and new graphics, the show lasted about two hours, on par with the January premiere. The group tackled the legacy of Larry Flynt, who recently died, emphasizing his famous fight for free speech. Also mentioned was the decision which clarified that public figures cannot recover damages for "intentional infliction of emotional distress" based on parodies. Evelyn seemed conflicted as to whether or not she should speak up during that part – but eventually remained silent for most of that particular segment.
The new installment felt more relaxed, with Evelyn gaining a bit more self-confidence after noticeable stress during the first episode. Spontaneous comical segments included Adriana Chechik's repeated attempts to avoid saying 'OnlyFans' - apparently because it's against Twitch's Terms of Service – and as you can guess, accomplishing such self-censorship was not an easy task for Ms. Chechik. The other guests used made-up rhymes as an alternative name for that platform.
Also on the ToS front – we got a nipple slip, but luckily for Evelyn - it was from a male guest. Evelyn immediately disciplined him, and the wardrobe malfunction – clearly an honest mistake – was quickly resolved.
Juicy information included Adriana Chechik's reveal that she had to pay $1200 to a random person with contacts at Instagram in order to get herself verified on the platform, telling viewers that this is apparently a common thing. She also revealed that higher-ups at OnlyFans told her she can do "whatever she wants" on the platform due to her high-profile status – including acts that are forbidden in their rules and other performers got banned for, such as "golden showers".
The third episode is currently scheduled for Monday, March 15.