EXCLUSIVE: Evelyn Claire Allegedly Commits Federal Crimes
This is an exclusive EvelynClaire.WS investigation, following a lead sent to us by a tipper. We have concluded that Evelyn Claire allegedly violated federal laws - leaving a clear trail of evidence behind by broadcasting it to hundreds of thousands of online viewers – both in real-time and in repeated-viewing form. She has also allegedly violated both Twitch's Terms of Service, as well as the Terms of Service of the main company we'll discuss. We have saved all of our findings offline in case steps are taken to obstruct justice.
Our tipper, who wished to remain anonymous, notified us of an affiliation deal Evelyn Claire struck with Online Casino 'Duelbits', providing us with links and a short background which we then thoroughly analyzed, researched and investigated. This included watching over 8 hours of recorded evidence. We've archived links from Evelyn's official Twitch before going public, proving that Evelyn has an affiliated link with the company, and that multiple streams focused on promoting them: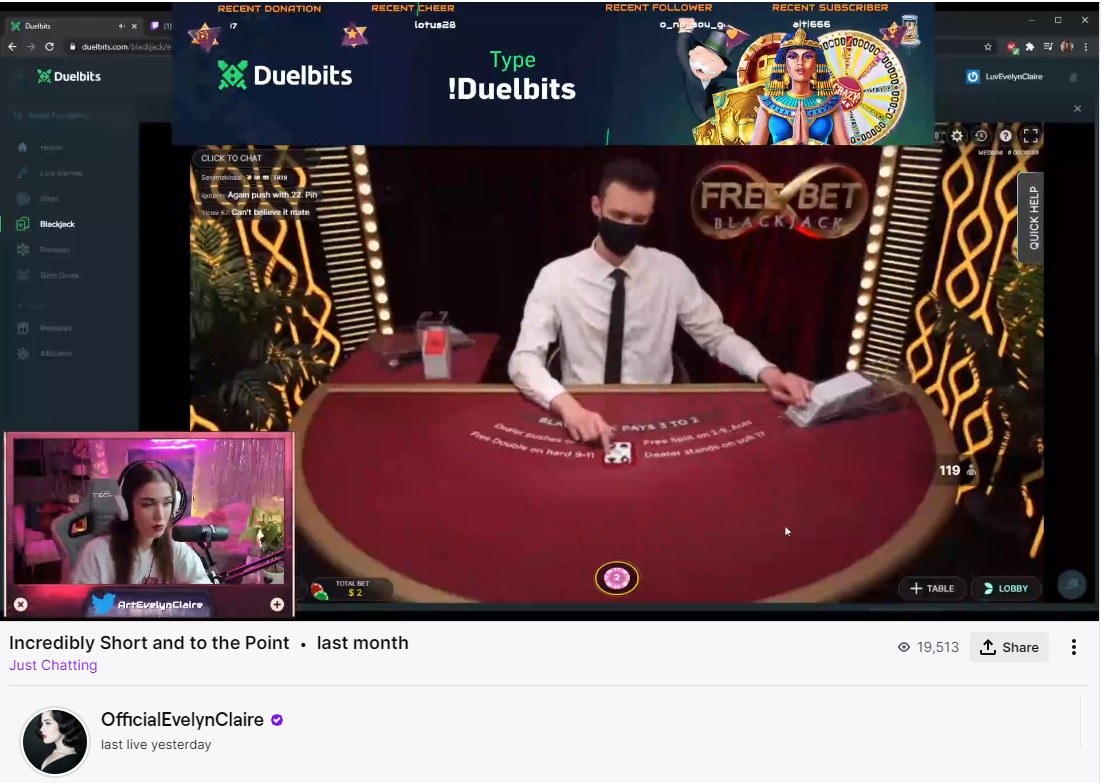 You can see that at the time of publishing this article (February 4, 2021), a "DUELBITS" banner linking to their website in way of affiliate link (/?a=evelyn) appears on Evelyn's official "About" page, with the text reading "Use Evelyn's affiliate link to get started!". Additionally, a "!duelbits" chat command has been added to her Twitch chatroom, encouraging the viewer: "don't be jealous of me having all this fun! You can play too by using my affiliate link here". Evelyn streamed herself gambling numerous times – but we'll focus on the initial streams, which took place last December, beginning on December 22. That stream was titled "Incredibly Short and to the Point", lasted 8 hours, and at time of publishing had 19,513 views. It was split to Chapters including "Virtual Casino" and "Slots". On that stream, Evelyn announced the sponsorship deal with Duelbits, which is operating from Curacao (a location included in the Foreign Account Tax Compliance Act), where she gambles virtual currency (illegal in many countries) and gets paid for it. An affiliate link to register from her invitation is presented on-screen and in-chat at that time, to increase financial profit.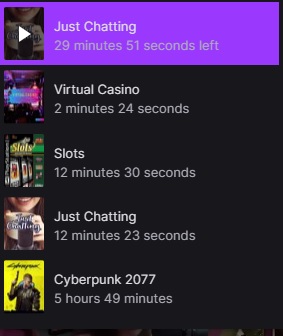 A later stream titled "oh no not another holiday alone" had 27,850 views, for a combined total of almost 50,000 views just for these two streams alone – there were numerous others since with infringing content. Her original plan was to go live with these casino streams for up to 5 times a week.
OK, but where's the crime?
Now this is where it gets interesting. Duelbits' Terms of Service (a revision from 2/10/2020, in effect at time of streaming as well as time of this publishing) states:
Banned Regions

People living or having a permanent or temporary residence in any of these countries are not entitled to register an Account on duelbits.com or use any of the Service on duelbits.com.

Aruba, Bonaire, Curacao, France, The Netherlands, Saba, Statia, St. Maarten, Singapore, and the USA. This includes all of the named Nations' Territories.

Residents from the aforementioned territories are prohibited from opening an Account or in any way use or access the Gaming Services or any other Services offered by the Company.
So by Duelbits' own ToS, Evelyn has been playing from a banned region (The United States), violating that prohibition. It's worth noting that Duelbits are fully aware of this, as they helped her set up the account and gave her affiliate access.
Evelyn streamed her Duelbits actions to many viewers – some of them being able to use her affiliate link, while many others not even being able to do so due to automated region-bans which Evelyn was exempted from.
Next, we have the following sections in Twitch's Terms of Service:
Section d1: You are solely responsible for ensuring that any Promotions comply with any and all applicable laws, obligations, and restrictions.

Section d4: You will display or read out the following disclaimer when promoting, administering, or conducting a Promotion: "This is a promotion by [Your Name]. Twitch does not sponsor or endorse this promotion and is not responsible for it."

Section 9i: …distribute content that is inaccurate, unlawful or otherwise objectionable.

Section 9xvii: use the Twitch Services for any illegal purpose, or in violation of any local, state, national, or international law or regulation, including without limitation laws governing intellectual property and other proprietary rights, data protection, and privacy.
Evelyn admitted on-stream, multiple times, that she was hired by Duelbits, receiving access to the platform, with funds provided to her by Duelbits, including an affiliate URL which gives her financial profit if used by others to register. This was used to promote and stream the illegal activity for dozens of thousands of users online, with a copy of the incident being available for on-demand watching as well. This appears to be a violation both by Duelbits, who knowingly struck a deal with an American to promote the activities and gave illegal access to her, and by Kellie Paulsen-Nail herself, who is profiting from the deal and promoting the service on a third-party American platform while using her stage name of Evelyn Claire.
Even more alarming, Evelyn spends her virtual currency on Duelbits, which according to her own admission, is not really her money, but money given to her by the company to play and draw traffic to the website. This means that, for example, when Evelyn "won" $5,000 on-stream, it was at the expense of a regular, innocent-paying customer, who thought they lost to a different member – but instead lost money to the company itself, because the money wasn't Evelyn's to begin with. Sounds like fraud. Additionally, Evelyn said that while she's paid a fixed price for the promotion, they also let her keep a small percentage of her on-site balance winnings, meaning that not only she gains money from illegal activities - but it's being stolen from paying members as well, profiting at the expense of other people's money unfairly. This is again in addition to profiting from every new registered user she brought via affiliate link, which she encouraged viewers to do.
Federal crime
We've learned that The California Gambling Control Commission has been looking into this matter of recurring and prohibited promotion, actual gambling violations and illegal profiting, but since this was online and not in-person gambling, the Commission does not have an official role or responsibilities pertaining to that type of gambling.
They did, however, assess that these matters are under the responsibility of the U.S. Attorney's Office, who takes care of violations covered by the Federal Wire Act (18 U.S.C. Section 1084). The information has been forwarded to that office.
If charged and convicted under the relevant Federal Wire Act ("18 U.S. Code § 1084 - Transmission of wagering information; penalties"), Evelyn faces up to 2 years of imprisonment, a fine, or both:
(a) Whoever being engaged in the business of betting or wagering knowingly uses a wire communication facility for the transmission in interstate or foreign commerce of bets or wagers or information assisting in the placing of bets or wagers on any sporting event or contest, or for the transmission of a wire communication which entitles the recipient to receive money or credit as a result of bets or wagers, or for information assisting in the placing of bets or wagers, shall be fined under this title or imprisoned not more than two years, or both.
At time of publishing, Evelyn's affiliate link remains live despite the ToS violation, and her Twitch account is also live, again despite multiple breaches of the terms.
If a response is received from either Evelyn Claire, Duelbits or Twitch, it will be published here.