Evelyn Claire Begins Tattoo Removal Process
Twitter rejoiced last night as Evelyn Claire announced booking an appointment to begin the process of removing her upper left arm tattoo – the biggest one out of three – of a square bottle with floral print. "Thank god", said a Twitter follower. "Great idea", "Awesome!", "Good decision", others agreed.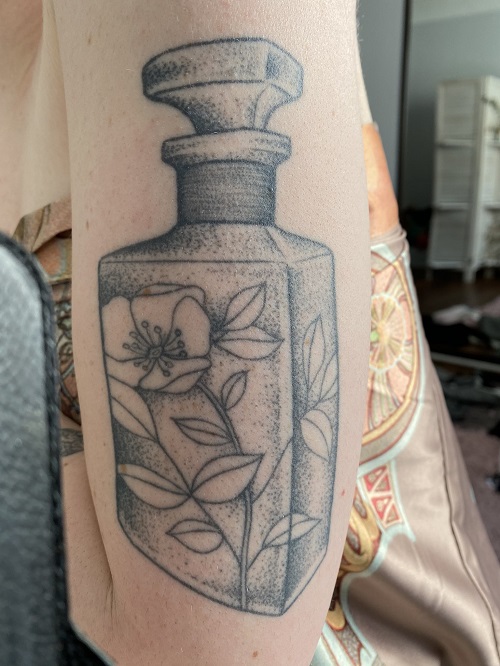 The aforementioned tattoo is a product of an impulsive decision, taken when Evelyn visited a tattoo convention back in October 2017. The first procedure will begin today, Friday, February 19, 2021, and will mark the start of a long process. Evelyn said she is excited and hopeful it will be worth it, and acknowledging that while she considers the tattoo to be unique and pretty, she always felt it made her arm look incomplete, due to odd placement and emptiness around the sides.
Evelyn has two additional tattoos: an "Est 1996" print under her left breast, and three alien heads inside her left forearm. Asked if she's planning on getting rid of the others, Evelyn replied "just this one for now".
Tattoo removals are commonly performed using multiple color-spectrum-ranged lasers that break down the tattoo's ink particles into smaller ones, manipulating the immune system by damaging macrophages, thus triggering a release of captive ink. As pain mitigation, Evelyn is expected to have her arm cooled before and during treatment with a medical-grade chiller, as well as having a topical anesthetic applied.
Some results might be immediately visible, but the fading process usually happens gradually over a 7 to 8 week healing period between treatments.